Mango Bravo Cake made easy using steamed or baked methods. This soft and moist chiffon cake topped with cream, sweet mangoes, and melted chocolate is the ultimate sweet fix!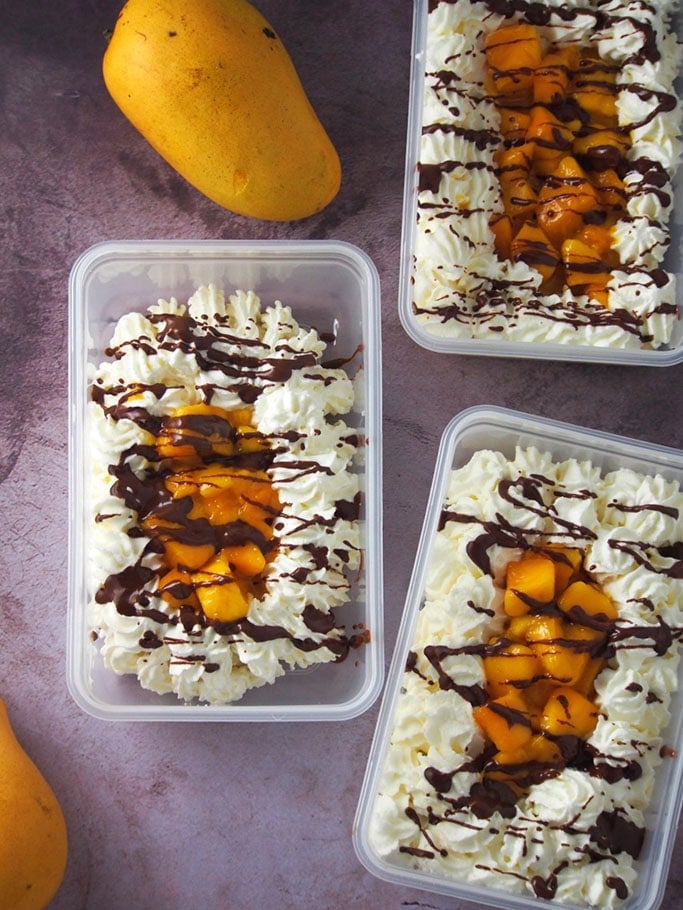 If you are looking for more ways to enjoy juicy mangoes this season, this Mango Bravo cake is a must-try. A heavenly concoction of soft and moist chiffon cake, generous pipings of sweet whipped cream frosting, luscious fresh mangoes, and drizzles of melted chocolate to top it all off, every bite is an explosion of flavors!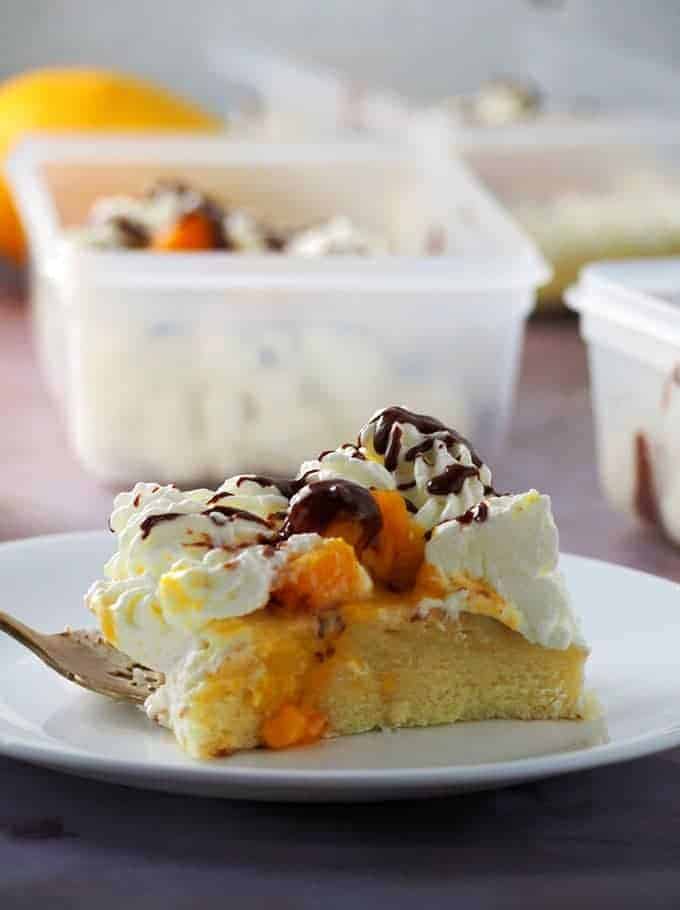 Before we proceed, let me just say that although inspired by Conti's, this recipe here is not the exact copycat. While the restaurant's Mango Bravo Cake is an impressive tiered masterpiece with sponge cake, meringue wafers, and mousse layers, our humble version is a simple chiffon cake but just as delicious!
Instead of making the base cake in one big pan, I decided to use llaneras to yield small portions that would fit in individual plastic tubs. This type of packaging is great for selling or gifting.
Also, we get a lot of comments on our cake and dessert recipes here on Kawaling Pinoy if they can be steamed instead of baked. Well, dear readers, we hear you because this mango cake batter can be steamed on the stovetop or baked in the oven!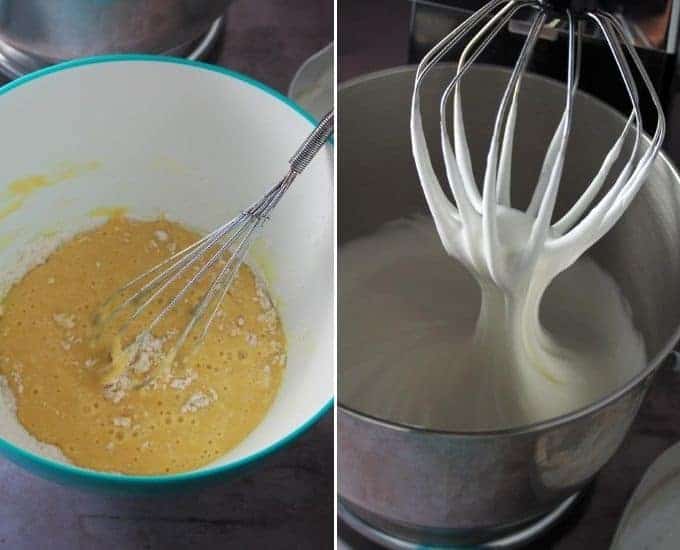 Tips on making the chiffon
Add mango essence to the egg yolk batter to deepen the flavor. If unavailable, substitute vanilla extract.
Separate the egg whites from the yolks when the eggs are cold, but allow the egg whites to reach room temperature before whisking to create more volume.
For best results, use clean, grease-free bowls, and whisk attachments. Use glass or metal bowls as plastic can have a greasy film that will keep the whites from whipping up to full volume.
Beat the egg whites until glossy, thick, and stiff peaks hold up straight without collapsing.
Gently fold the meringue into the yolk batter in three gradual additions using a rubber spatula until the resulting batter is uniform in color, making sure not to deflate the meringue.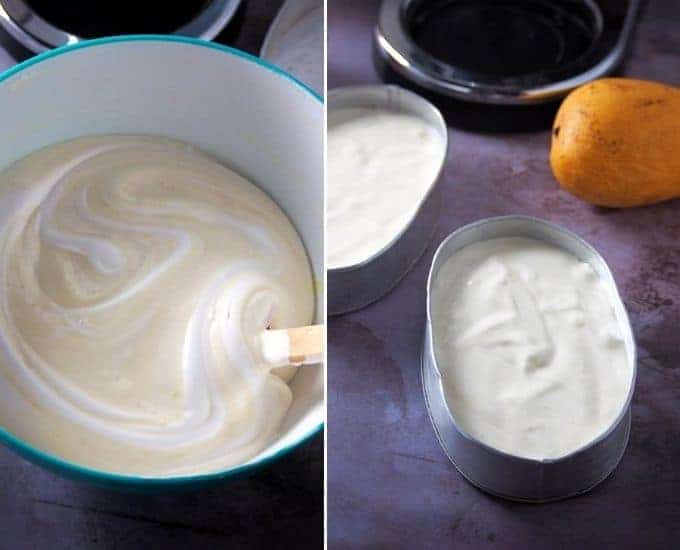 Steamed or baked
The recipe uses 1-cup size llaneras and yields four small cakes. Lightly grease the llaneras or pan and fill with the batter to 3/4 full.
Steam for about 15-18 minutes or until the cakes are springy to the touch. Or bake in a preheated 350 F bake them at 350 F for about 16 to 20 minutes.
You can also use 8 x 8 pan and just cut the cake into rectangular pieces to fit into the plastic tubs. Add extra 5 minutes of cooking time when using larger pans.
Turn off the heat and do NOT remove the cakes right away to prevent drastic shrinkage. Let rest in the steamer for about 3 minutes.
Invert the llaneras on top of mugs until they are completely cool. Cooling them the cakes upside will prevent them from collapsing.
To unmold the cakes, run a metal spatula or knife along the edges of the lanera. Carefully remove the cakes and in transfer in individual containers ( I used 7.5 x 5 x2 inches rectangular tub).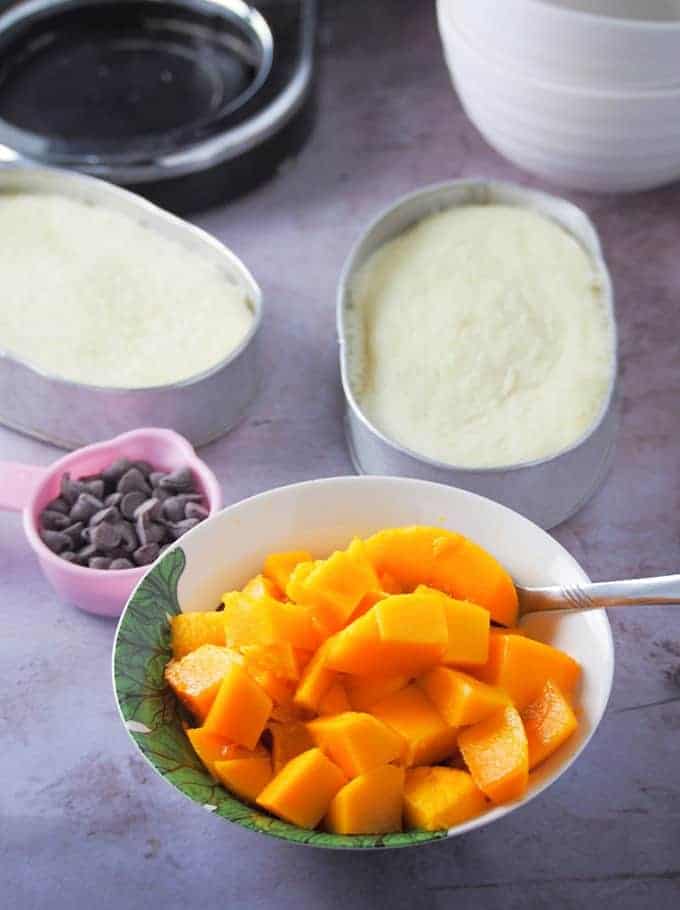 Prepare the mangoes
For best texture, use ripe but firm mangoes. Cook them in the syrup just until barely softened. Do NOT over stir lest they turn mushy.
Adjust the amount of sugar depending on the sweetness of the fruit.
Refrigerate in a container with a lid until completely cooled.
Whipped Cream
For maximum volume, chill the whipping cream until very cold. You can also freeze the bowls and beaters for a few minutes.
Nestle's all-purpose cream can be substituted if heavy whipping cream is not available but note that it does not whip up as well.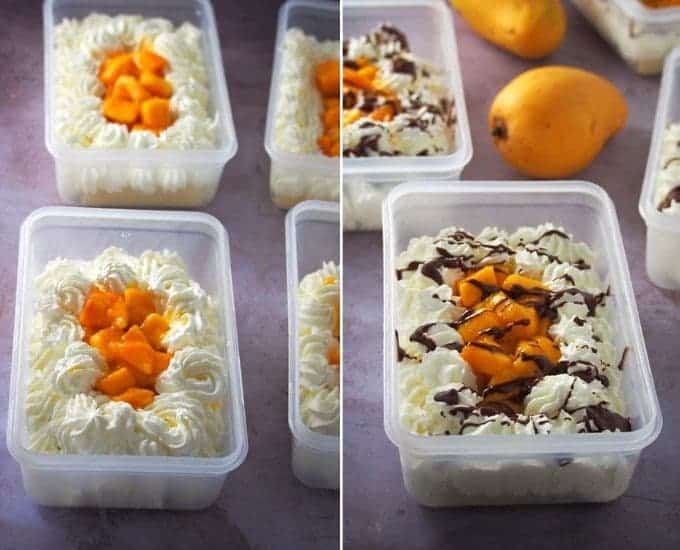 Melted Chocolate Drizzles
If using chocolate bars, chop in uniform sizes to ensure even melting.
Microwave the chocolate in a microwave-safe bowl at 15-second intervals until shiny and stirrable.
Stir in  1 to 3 teaspoons canola oil and stir until the mixture becomes fluid and pourable.
Use a low heat setting to keep from scorching or burning the chocolate.
Make sure the bowl and spatula are completely dry as any contact with even only droplets of water will make the chocolate seize and unworkable.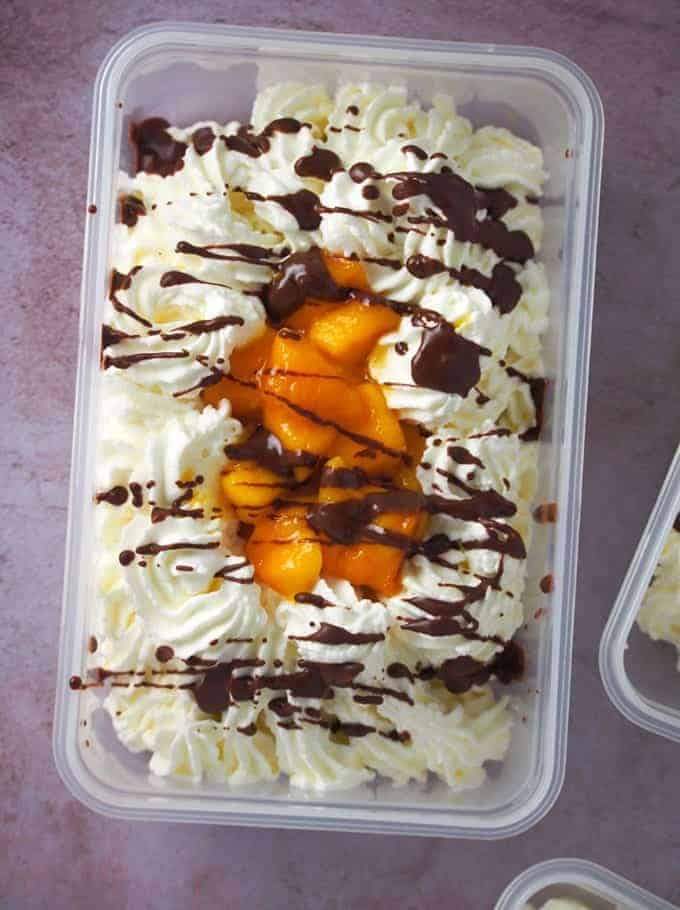 How to serve
Chill the cakes well in the refrigerator before serving.
Cut into serving portions and enjoy as an after-meal dessert or midday snack.
Store, covered, in the refrigerator for up to 3 days or in the freezer for up to 3 months.