Pancit Lomi Guisado is easy to whip up in 30 minutes or less with simple ingredients you have on hand. This Filipino noodle stir fry dish is hearty, tasty, and great for a midday snack or dinner meal.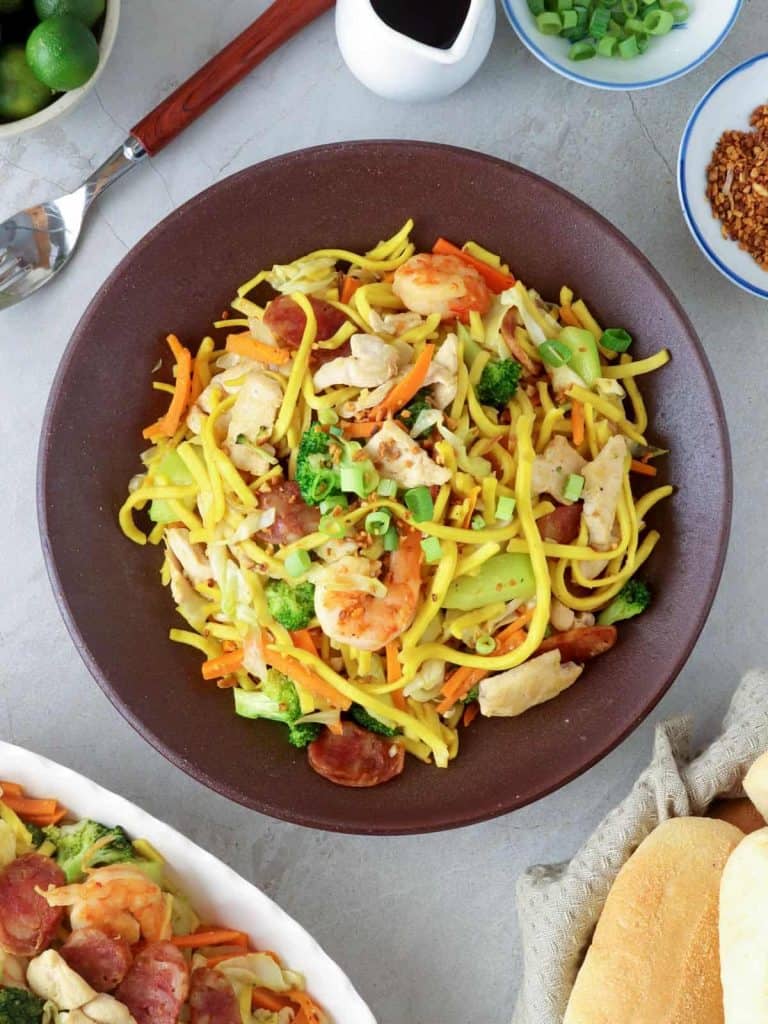 Noodles are pantry staples I always keep a steady supply of at home. I love how they're versatile enough to turn into soups or stir-fries and how they can easily be whipped up into a quick meal.
With canton, ramen, bihon, or fresh egg noodles on hand, a filling midday snack or scrumptious dinner is just a matter of minutes!
Pancit is more of a technique than a recipe as there are no fast rules on what goes into the dish. You can pull it together with almost any protein and vegetables your heart and tummy fancies.
I made this pancit lomi guisado using up the chicken, shrimp, lap Chong (Chinese sausage), carrots, chayote, broccoli, and cabbage I had in the fridge. Feel free to add or swap your favorite pancit ingredients or check out the ideas below.
Meat and vegetables to use in pancit:
Pork Belly-slice thinly so they'll cook quickly.
Bone-in chicken cut into bite-sized pieces-boil in a quart of water until cooked through, drain, and reserve about 1 cup of the liquid. Stir-fry the chicken pieces with the rest of the ingredients and use the broth in place of water
Fish balls, squid balls, meatballs, or kikiam-cut into desired pieces and lightly brown before tossing into the pancit
Chicken or pork liver-cook briefly to keep from toughening
Ground beef or ground chicken-lightly brown and break into chunks
Lechon kawali-chop into bite-size pieces and toss in the pancit just until heated through
Crushed chicharon-top pancit before serving
Fresh or dried mushrooms-soak until softened if using dried and slice thinly
Chinese celery (kinchay)-one of my favorite vegetables to use; I love the aroma and flavor!
Pechay-use in place or in addition to the cabbage
What else do you add to pancit? Make sure to share in the comments below!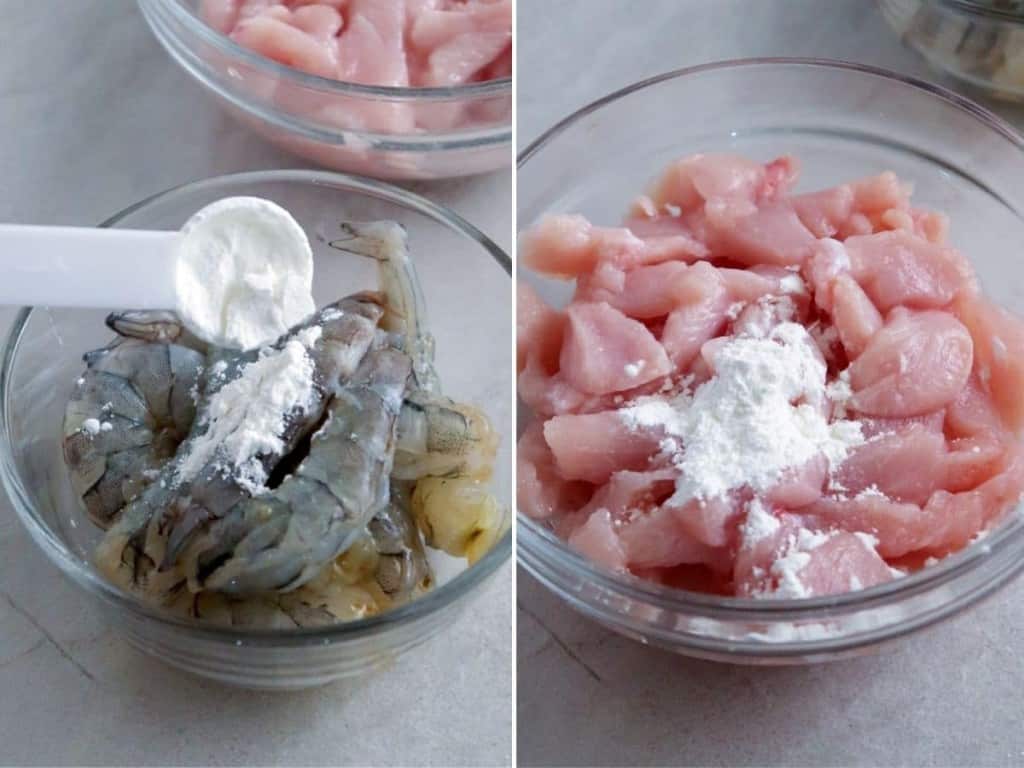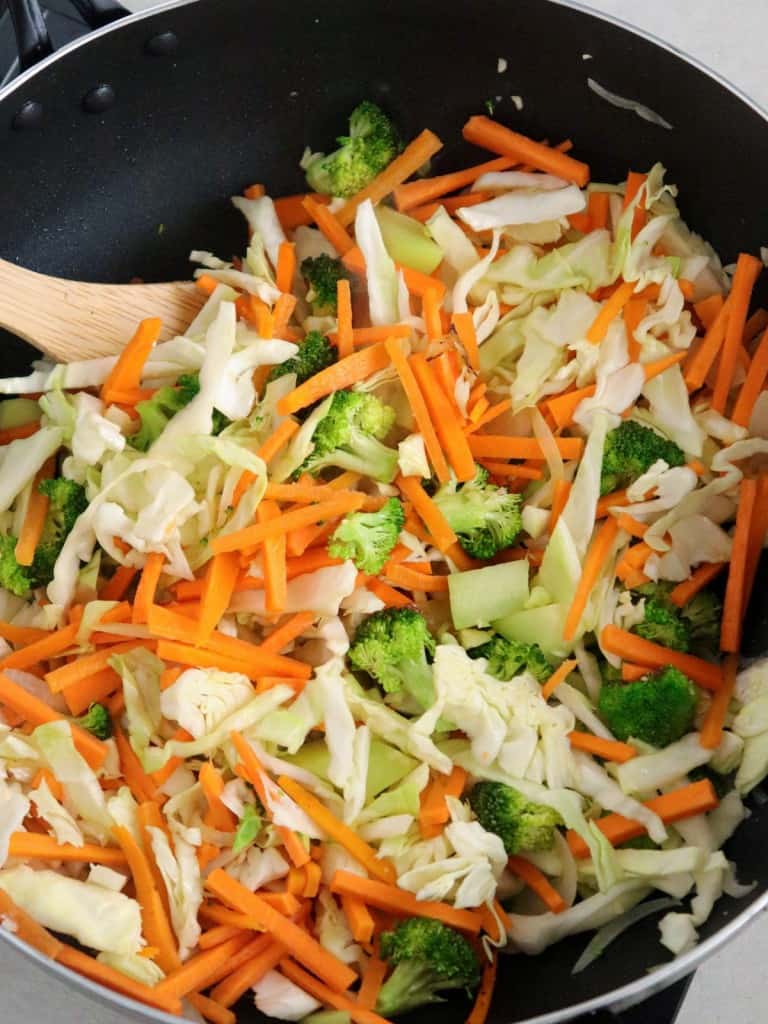 Velveting technique
Coating the chicken and shrimp in corn starch is a "velveting" cooking technique that keeps the meat moist and tender even when cooked in high heat. The corn starch coats the meat and seals in its juices, protecting it from getting overcooked.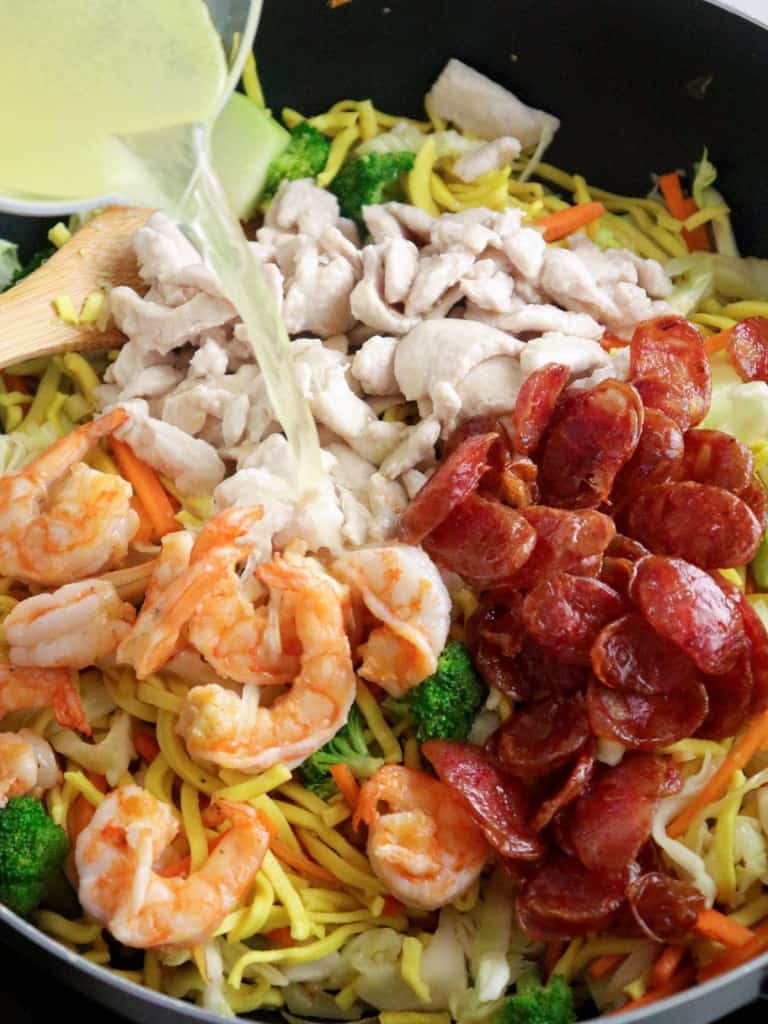 Cooking Tips
Stir-fries take only a few minutes to cook. Have all your ingredients ready to go for a smoother process.
Cut your meat and veggies into uniform bite sizes so they'll cook fast and evenly.
A wok is best, but any wide skillet with slanted sides will work as well. You might have to cook in batches if you don't have big enough cookware to prevent spills (tossing all the ingredients can get pretty messy) and to ensure good distribution of ingredients.
Use tongs or chopsticks to stir-fry as they help keep the noodles intact and lessen breakage.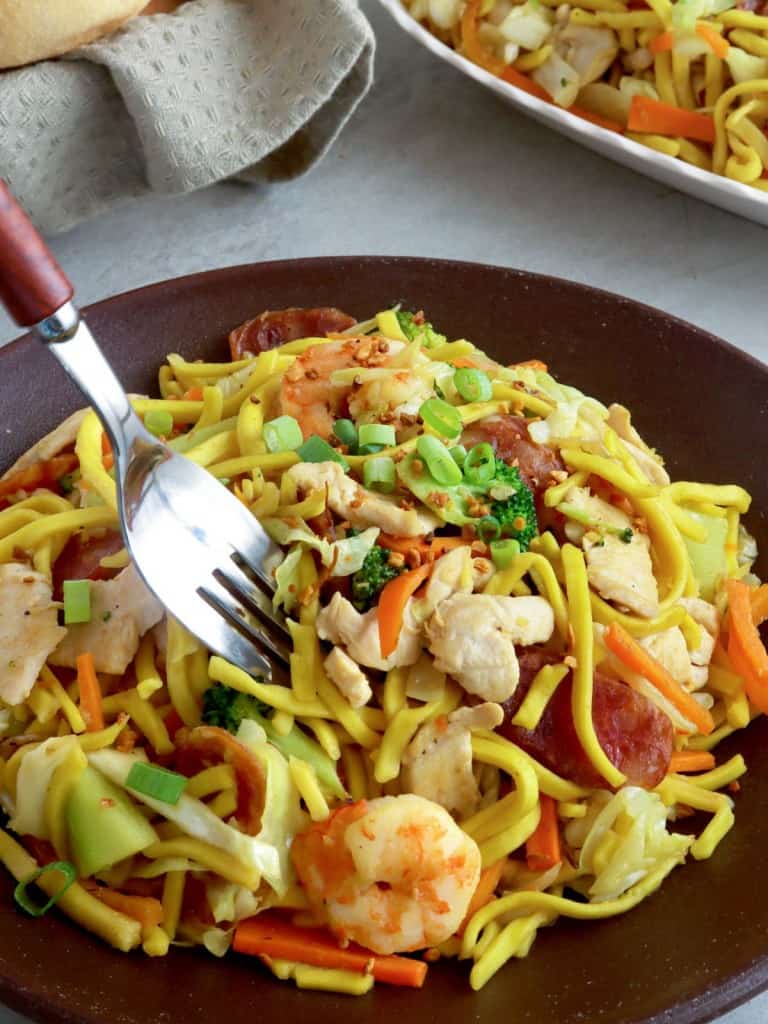 Serving suggestions
Pancit Lomi guisado is delicious and filling as a midday snack or main dish. It's also a great addition to any party menu, especially for birthday celebrations.
Garnish the pancit with chopped green onions and garlic bits and serve with calamansi on the side to brighten the flavors. Enjoy by itself or make it a heartier meal with puto, tasty bread, or pandesal.
How to store leftovers
Transfer leftovers to a container with a tight-fitting lid and refrigerate for up to 3 days.
Reheat in the microwave at 2 to 3-minute intervals until completely warmed through.