Have this classic Filipino dish ready in an hour! Easy Pancit Luglug with thick noodles, flavorful shrimp gravy, ground pork, and assorted toppings makes a delicious midday snack or main meal and is sure to be a family favorite.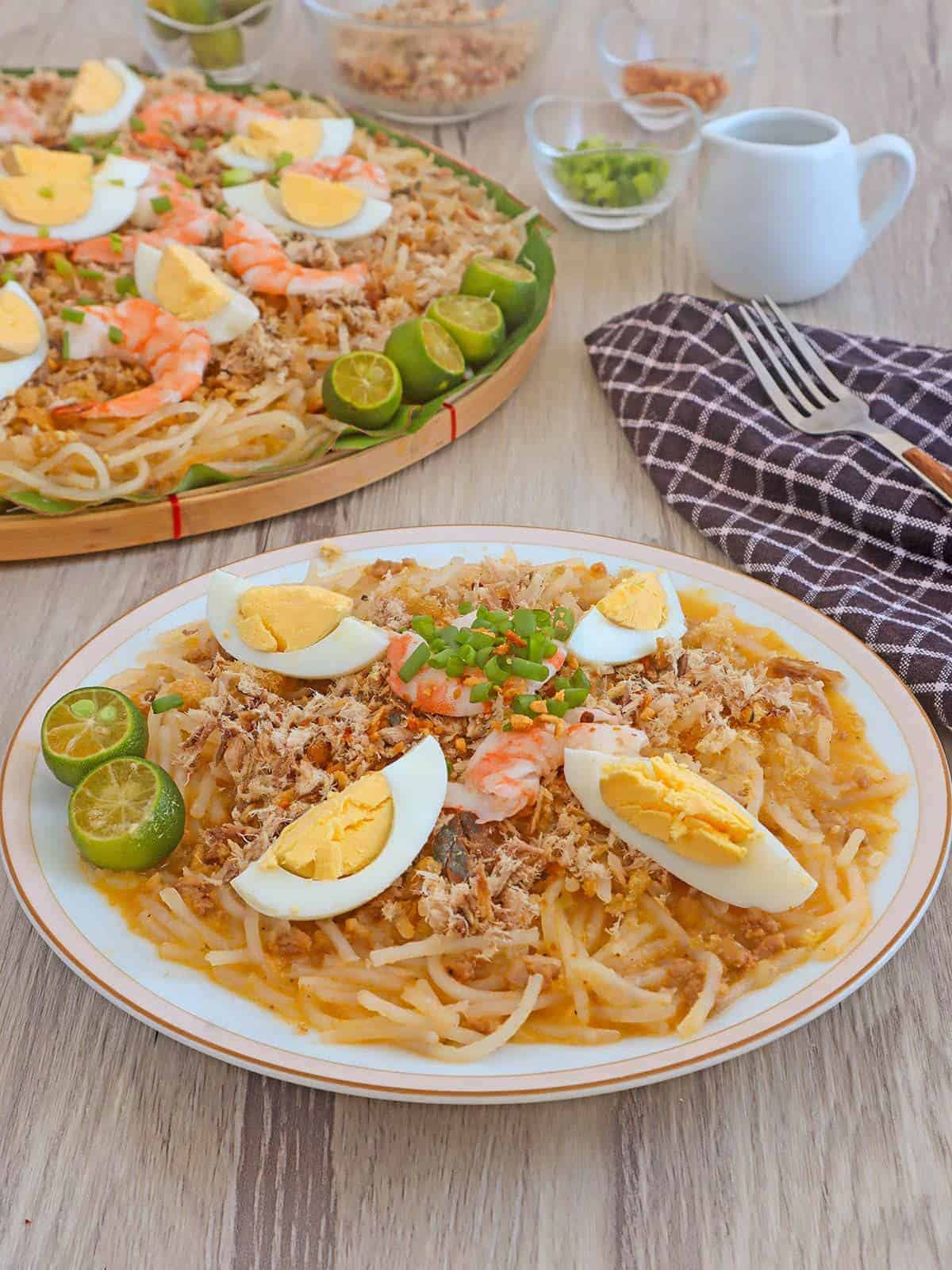 Although this is a straightforward recipe, it took me more research to put the post together. You see, Kapampangan pancit luglug is very similar to pancit palabok, so I've always thought of these two noodle dishes as the same. I thought luglug, which means "to submerge" in our local dialect, is just a regional name for the dish.
Most of the luglug recipes I found online, however, call for THICK noodles like pancit Malabon, which was confusing because the luglug I grew up with uses THIN bihon noodles.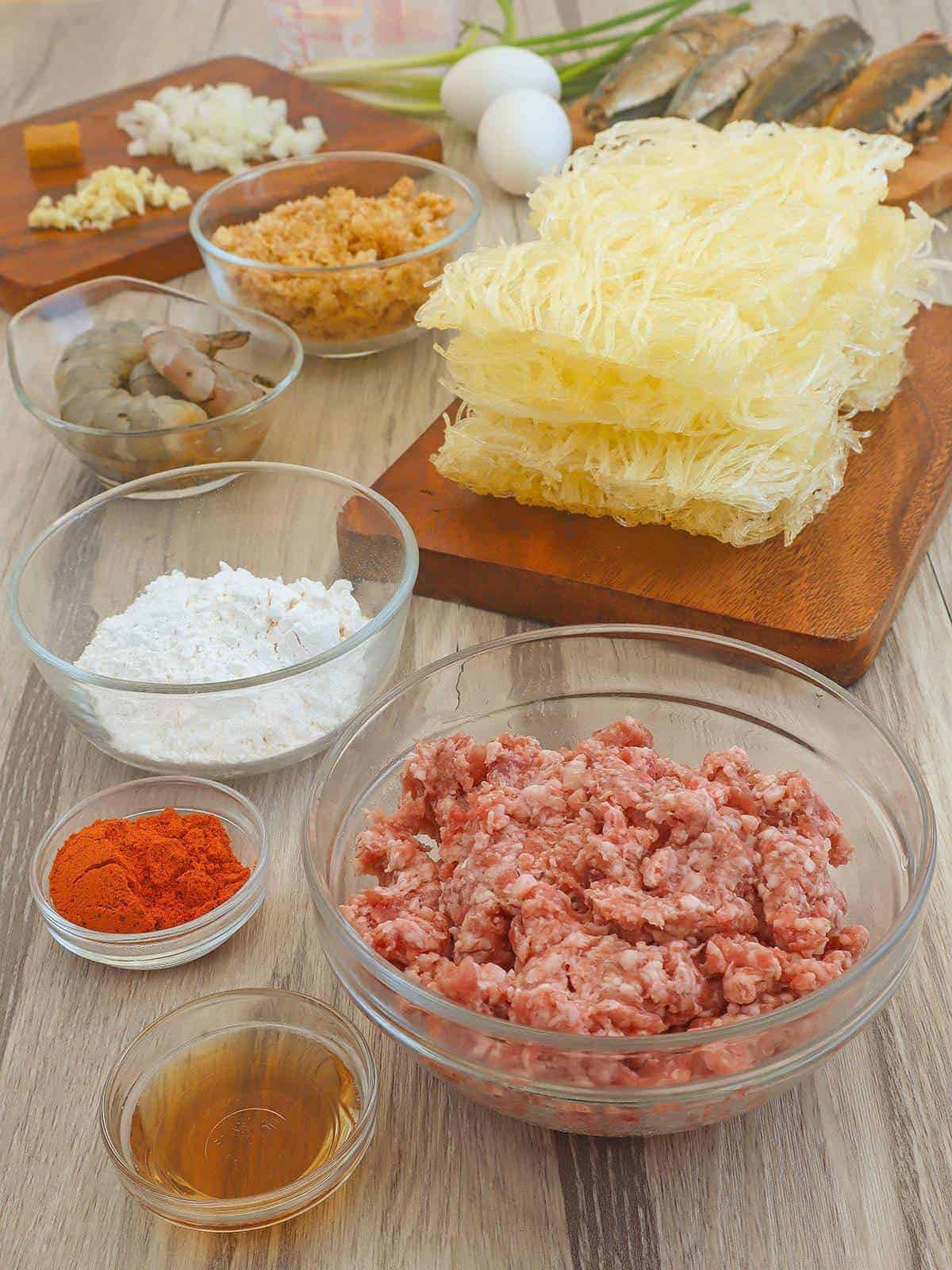 A visit to our neighborhood Seafood City supermarket gave me the answer.  Going through the store shelves, I found packages of THICK noodles specifically labeled pancit luglug as well as THIN noodles labeled as such.
So it seems, the Pancit lug lug isn't necessarily made with thick noodles but rather a type of noodle made of cornstarch instead of rice flour. You can use the thin or thick variety of these cornstarch noodles interchangeably with equally delicious results.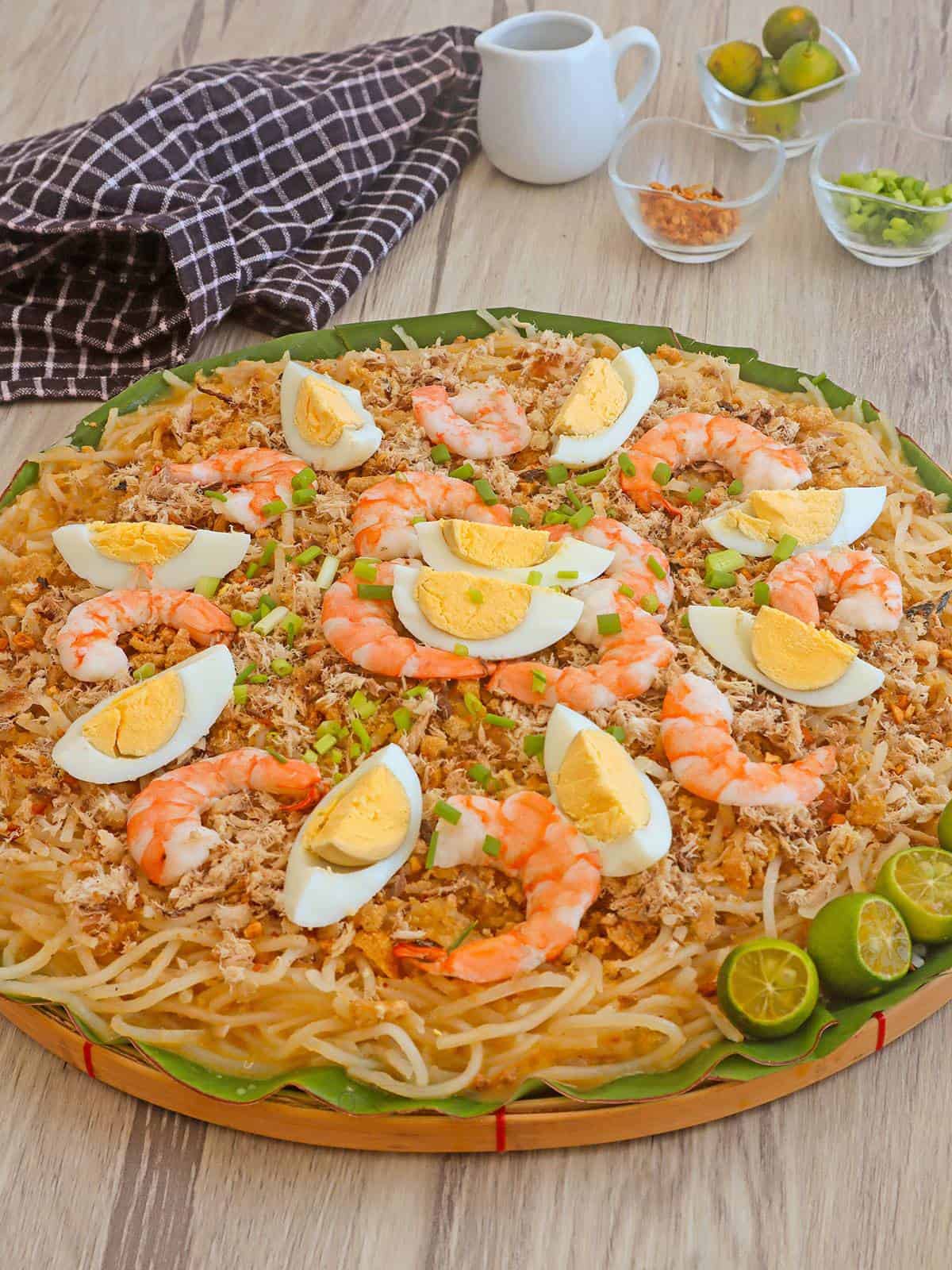 Why you'll love this Pancit Luglug
Pancit lug lug is quick and simple to make for everyday meals yet fancy enough for holidays or special occasions. It's ready to enjoy in under an hour!
Instead of a long list of toppings, ground pork takes the center stage in this recipe. The hearty noodles generously smothered with meaty shrimp gravy make for a truly flavorful meal!
Not only is it super tasty, but it's also economical to make, and can be easily doubled or tripled to feed a crowd.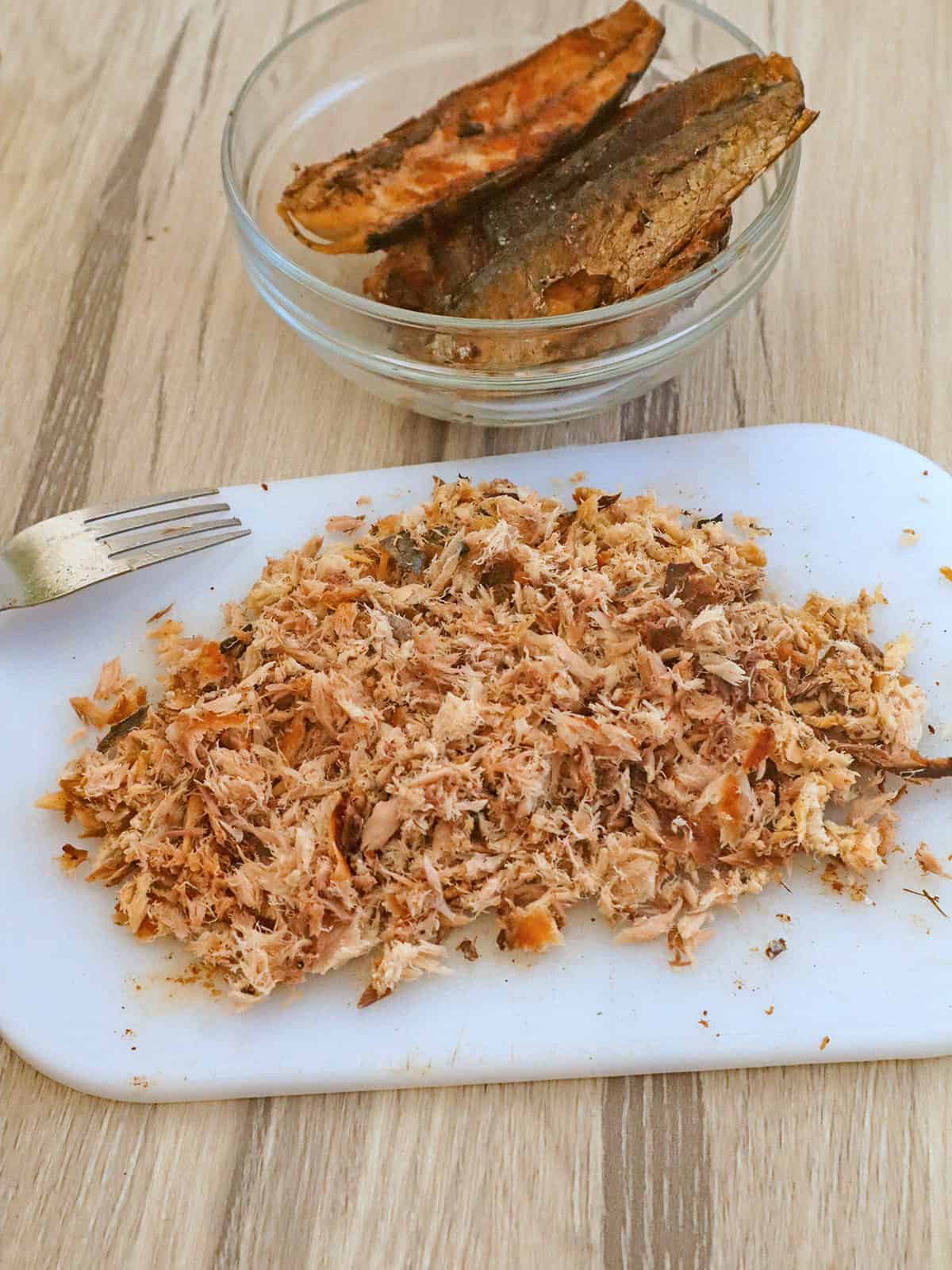 Topping options
Ground pork in the shrimp gravy brings a lot of flavors. Feel free to swap with diced pork belly if desired.
Along with crushed chicharon and flaked tinapa, you can also add crispy-fried tofu cubes.
Don't forget to garnish with crunchy garlic bits for flavor and chopped green onions for a splash of color and texture.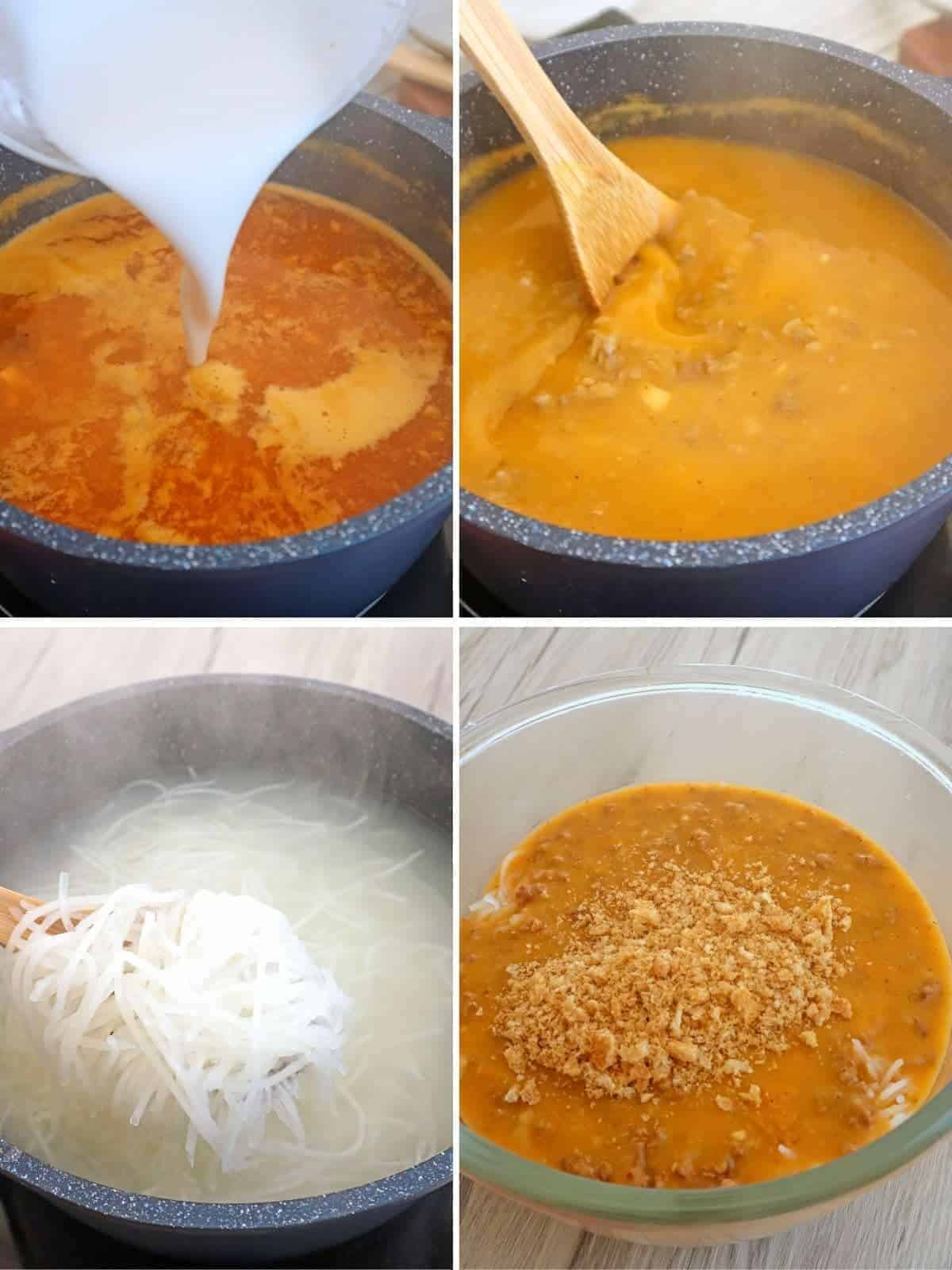 Cooking Tips
Annatto (atsuete) powder is for color. To substitute annatto seeds, steep them in hot water or briefly panfry in hot oil until the desired depth of color is achieved, and use the infused water or oil. Although both methods will work, I recommend extracting in water vs. oil to trim down the fat.
I use shrimp bouillon for extra flavor, but you can also make homemade shrimp stock using shrimp heads and peels. I suggest poaching the shrimps first before making the sauce so you can use the liquid.
Eggs are an important part of this noodle dish, and nothing ruins a good hardboiled egg, in my opinion than a gray ring around the yolk. For perfectly cooked and easy-peel eggs, place them in a saucepan and cool to cover by one inch. Bring the water to a full boil over medium heat, turn off the heat, cover,  and let the eggs sit for about 10 to 12 minutes. Drain under cold running water to cool completely and to stop cooking further.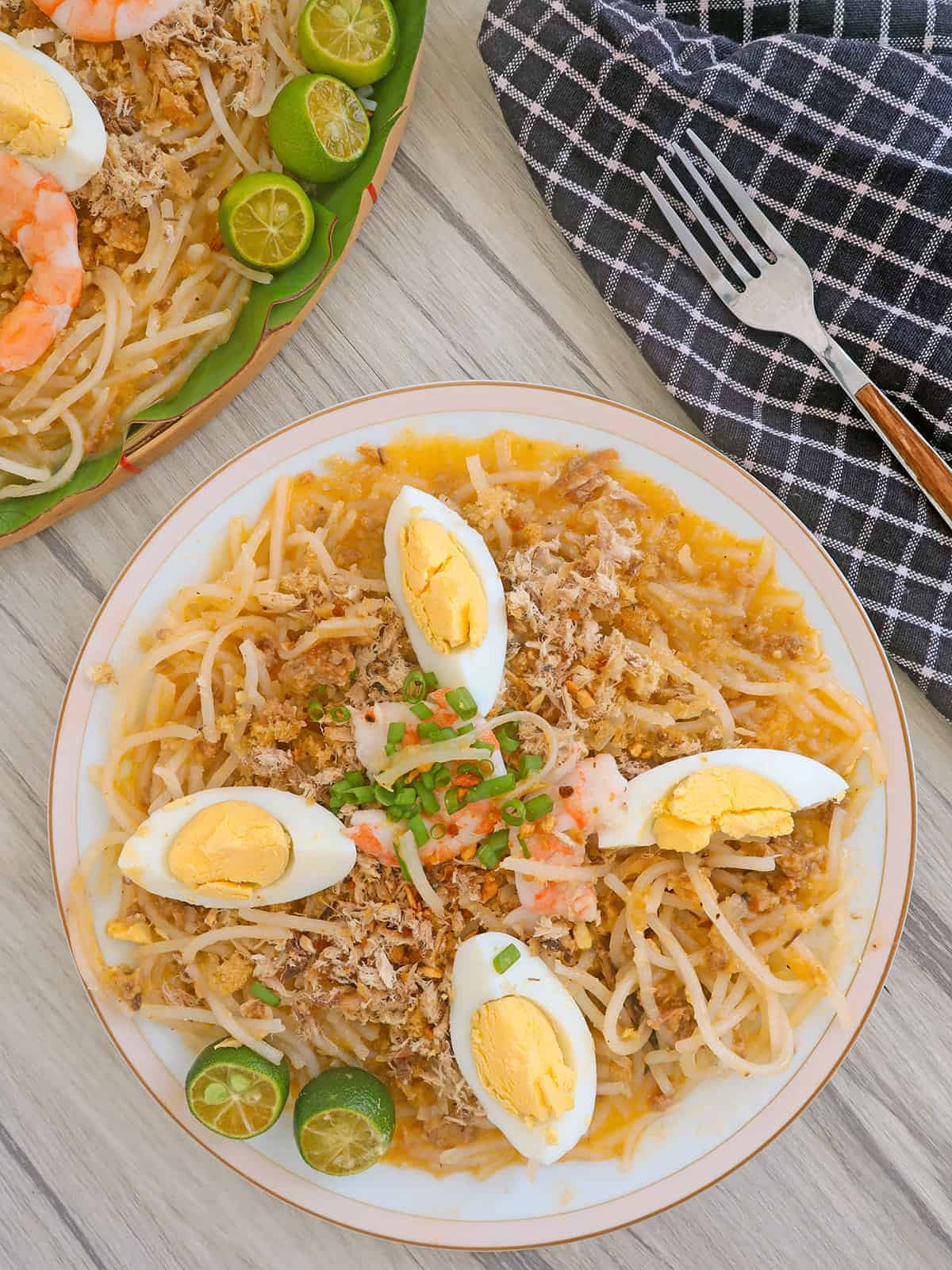 How to serve
Easy Pancit Luglug is delicious as a midday snack or light meal. I usually serve it with cheese put on the side.
I like to toss the gravy and the noodles together when I am using the thick kind and especially when serving a party so the guests can help themselves to the dish more easily.
For the thin variety, just spoon the sauce on top when ready to serve as these noodles are a bit more fragile and tend to get mush.
Storing leftovers
To save for future meals, store the noodles, sauce, and toppings separately for optimum freshness
More Pancit Recipes
Pancit Bihon Guisado
Pancit Malabon
Pancit Sotanghon Guisado